wolseley road
---
2018

london
private detached house

new-build family house with annex

410sqm internal + 46sqm garage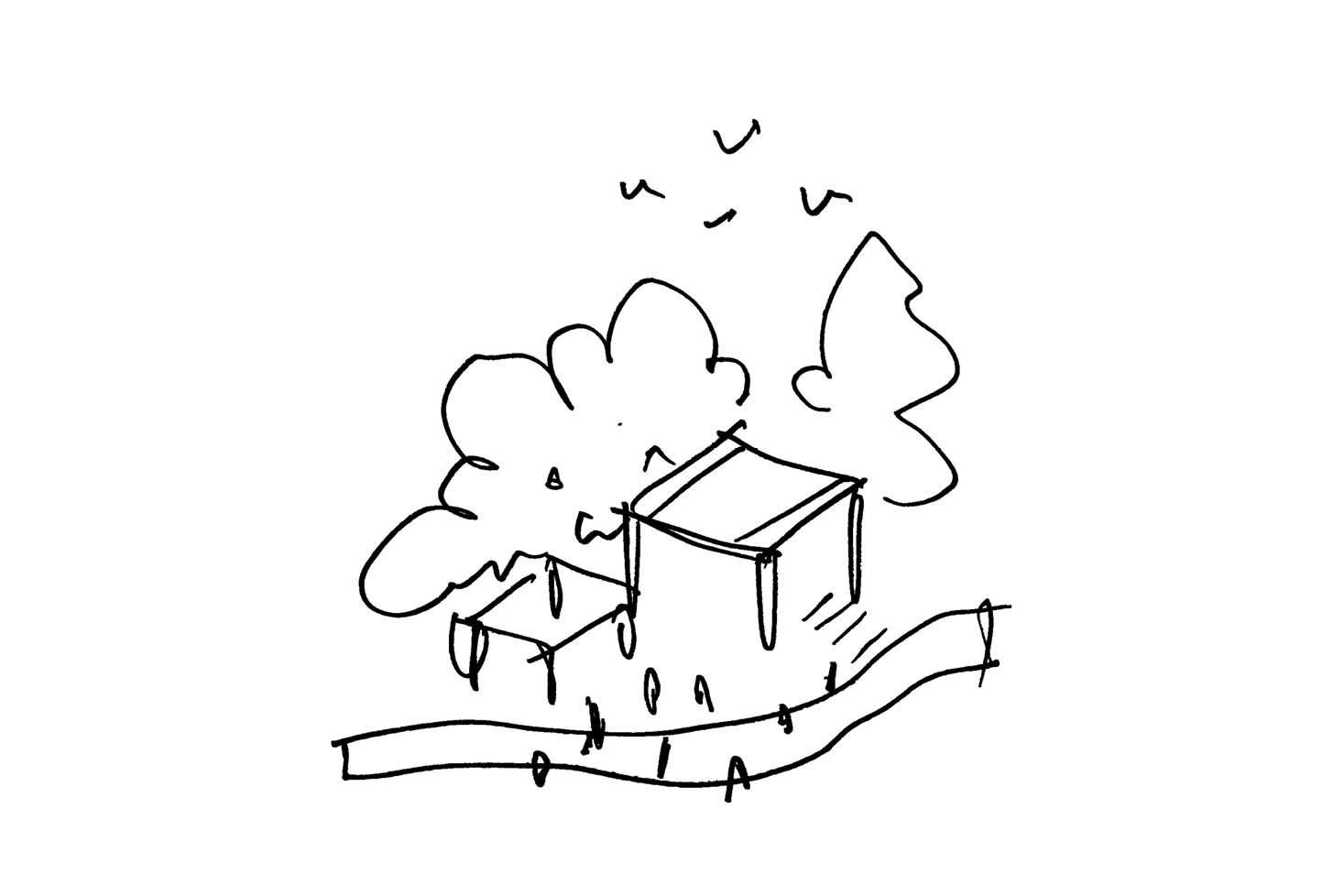 a new-build family house in London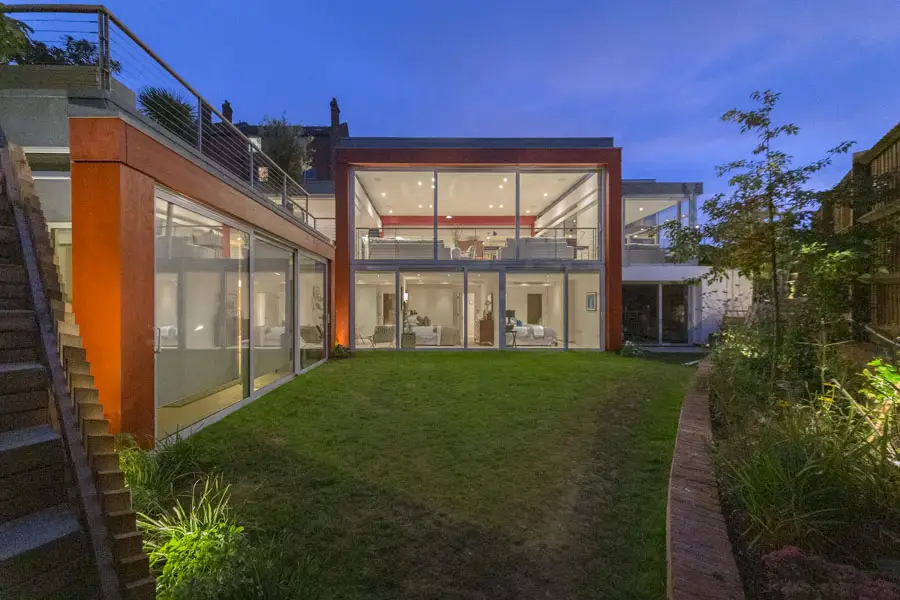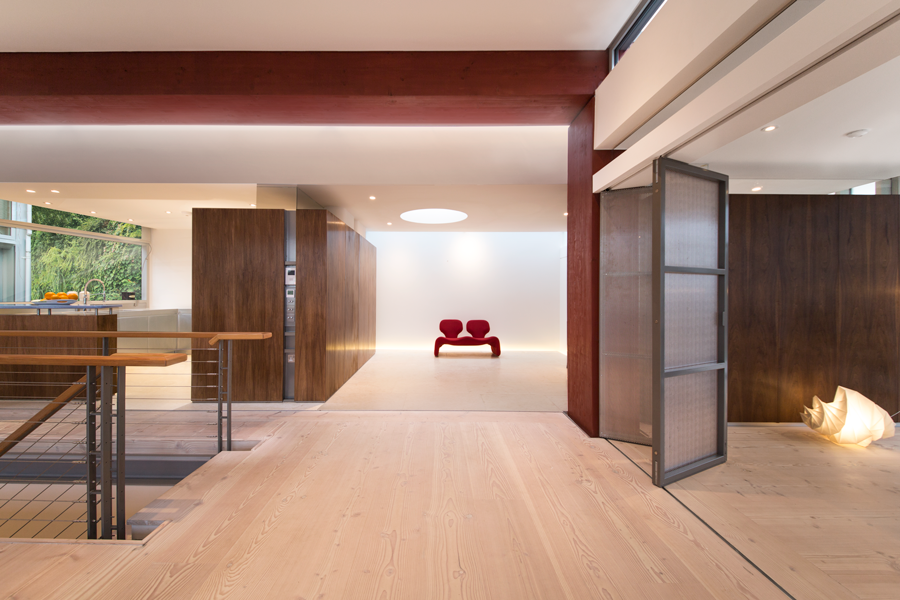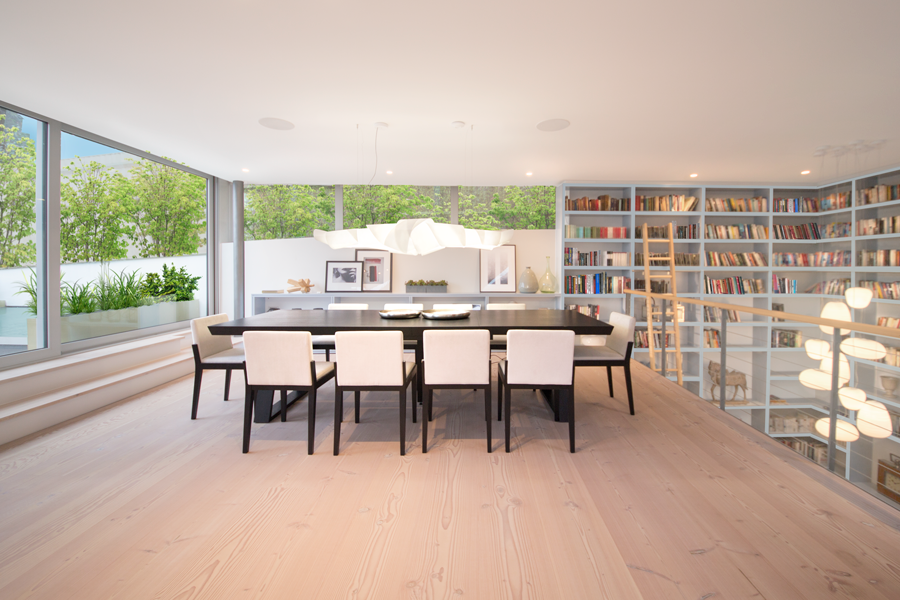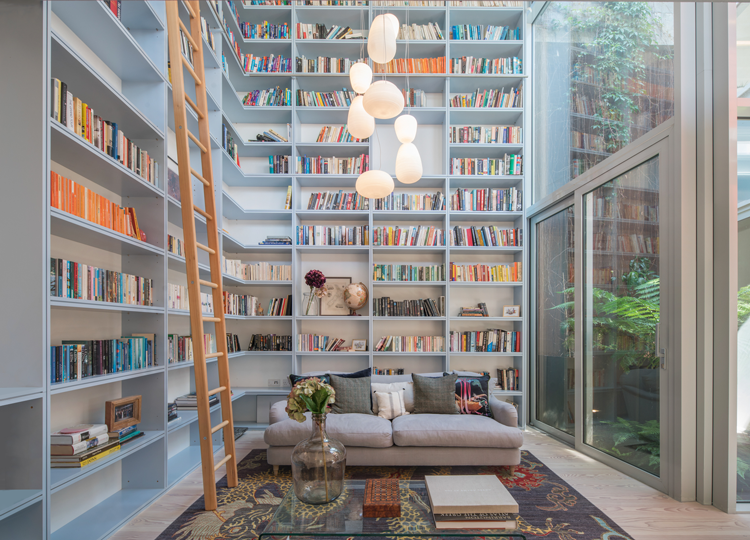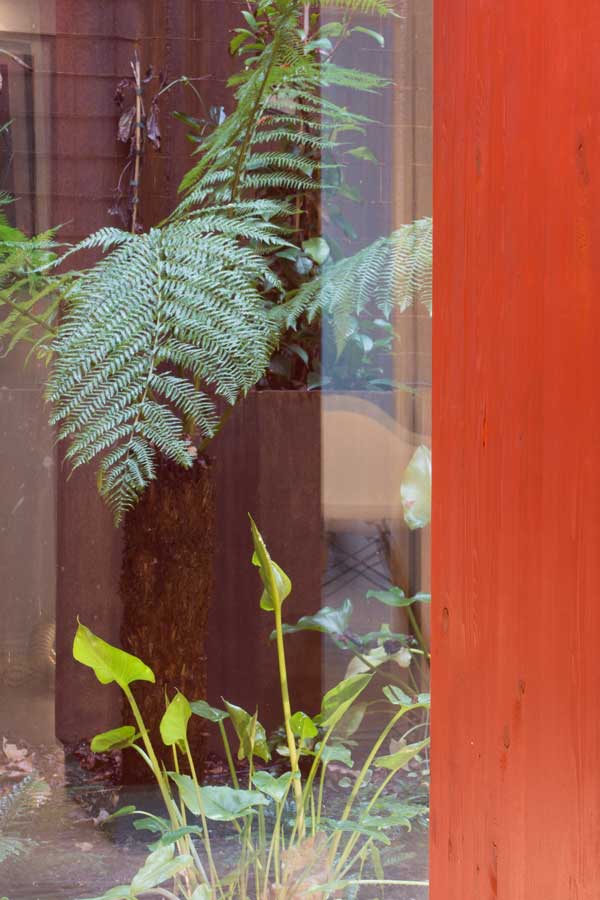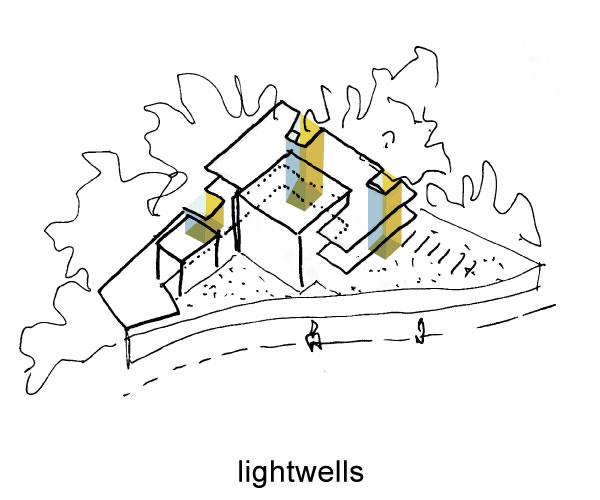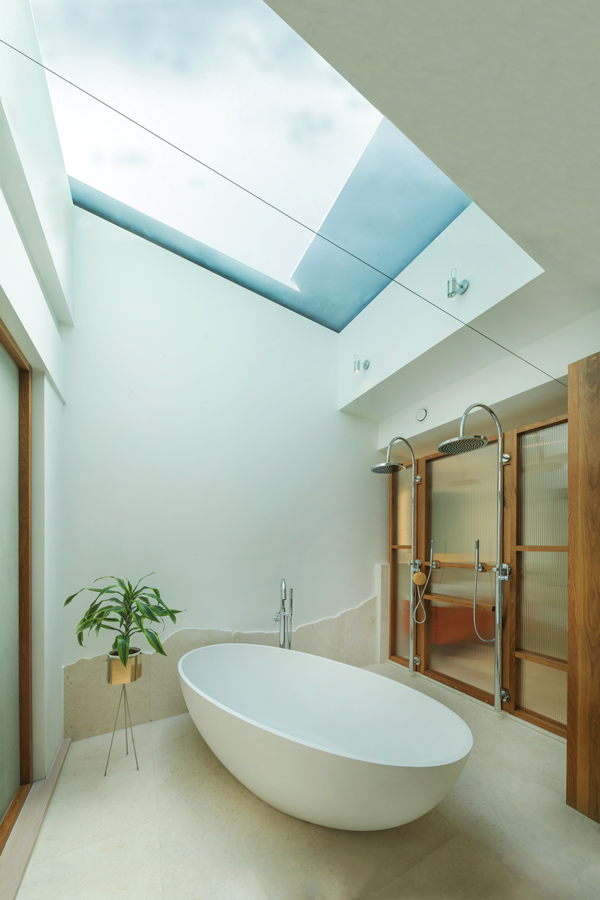 Approach
the architectural response is driven by the key site constraints
glazed elevations to the east and north compensate for the buried windowless elevations of the retaining walls
maximising light and views, the new garden also creates a valuable new focal point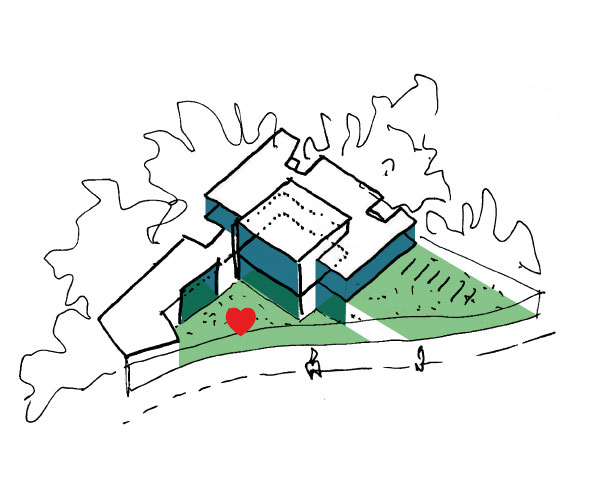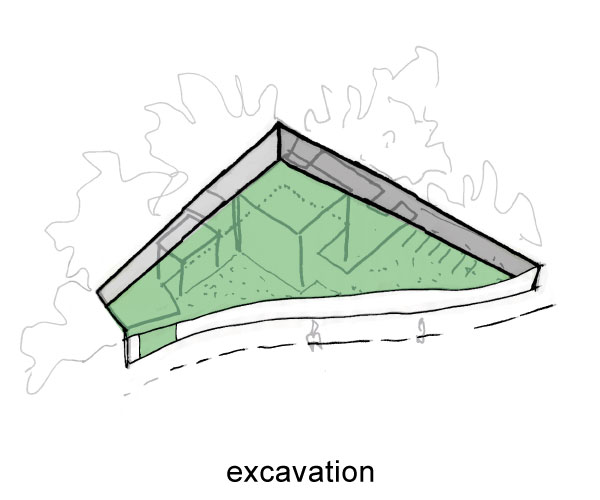 excavate to create a new garden level, connecting with the street at its lowest point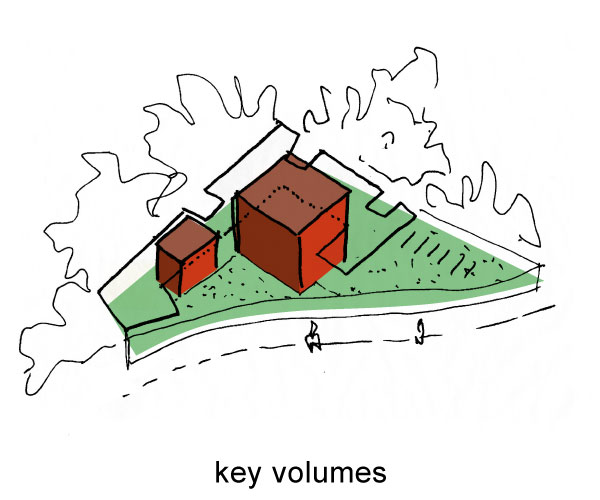 the building is split into two key volumes - two pavilions in a garden - maintaining a sense of openness within a restricted site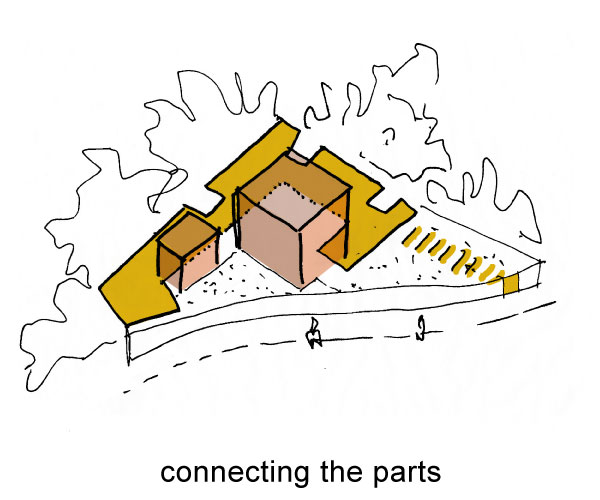 interconnections and overlaps - the upper level connects directly with the main street entrance, it wraps around the two volumes to frame a new lower garden space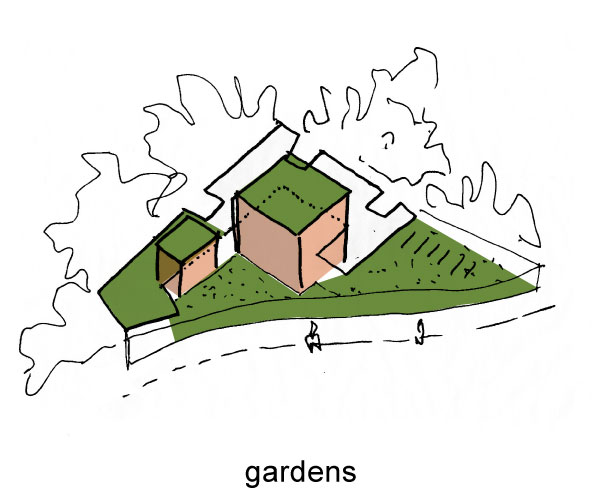 new gardens, lightwells and green roofs aim to unify the two levels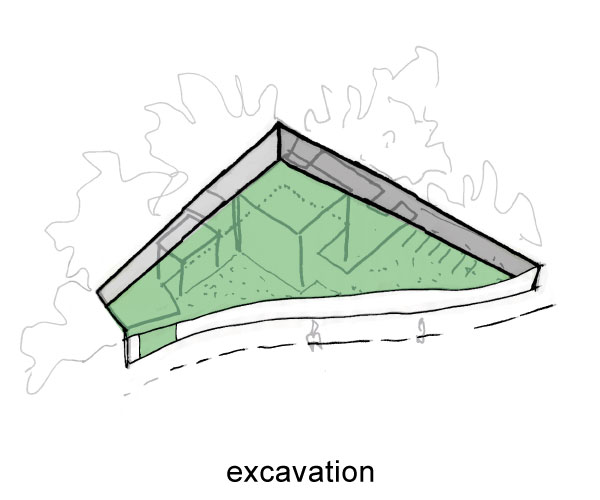 excavate to create a new garden level, connecting with the street at its lowest point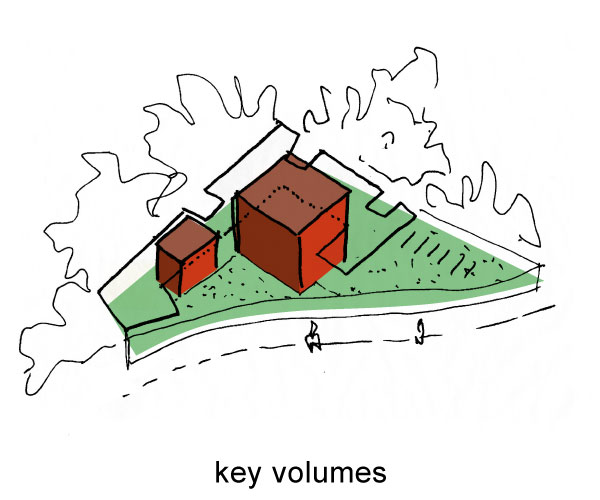 the building is split into two key volumes - two pavilions in a garden - maintaining a sense of openness within a restricted site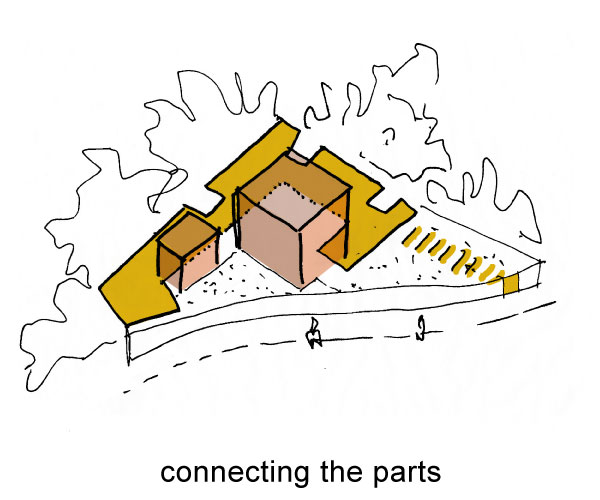 interconnections and overlaps - the upper level connects directly with the main street entrance, it wraps around the two volumes to frame a new lower garden space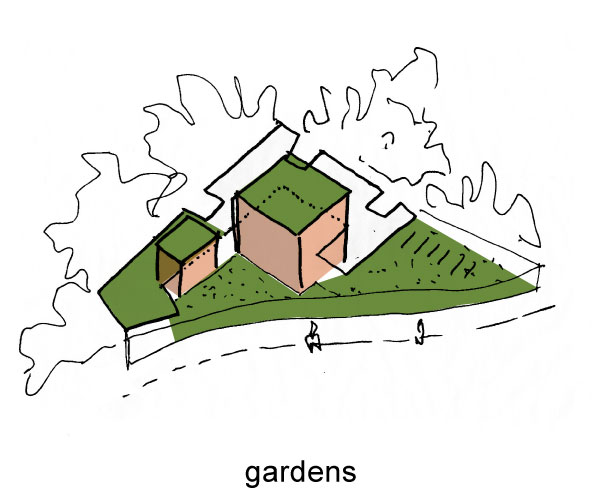 new gardens, lightwells and green roofs aim to unify the two levels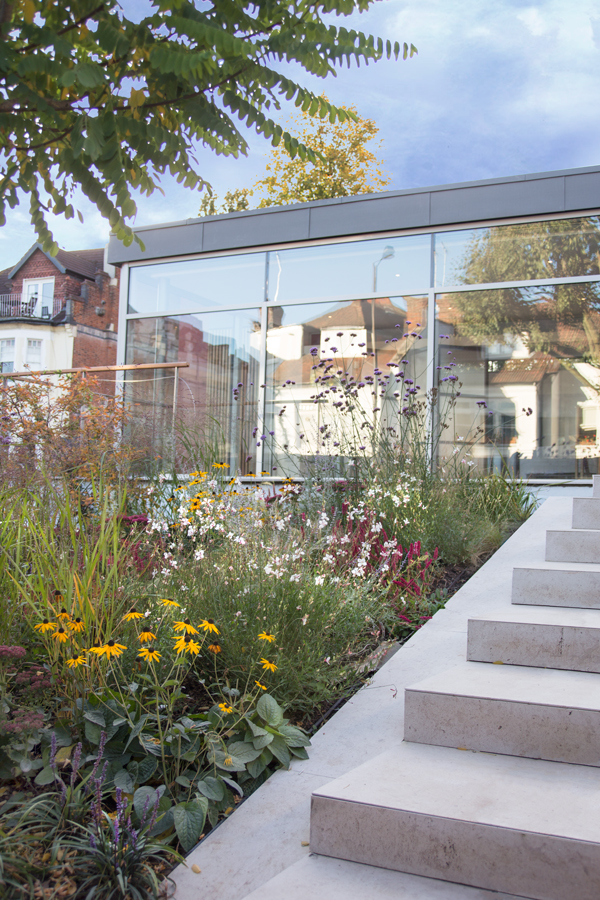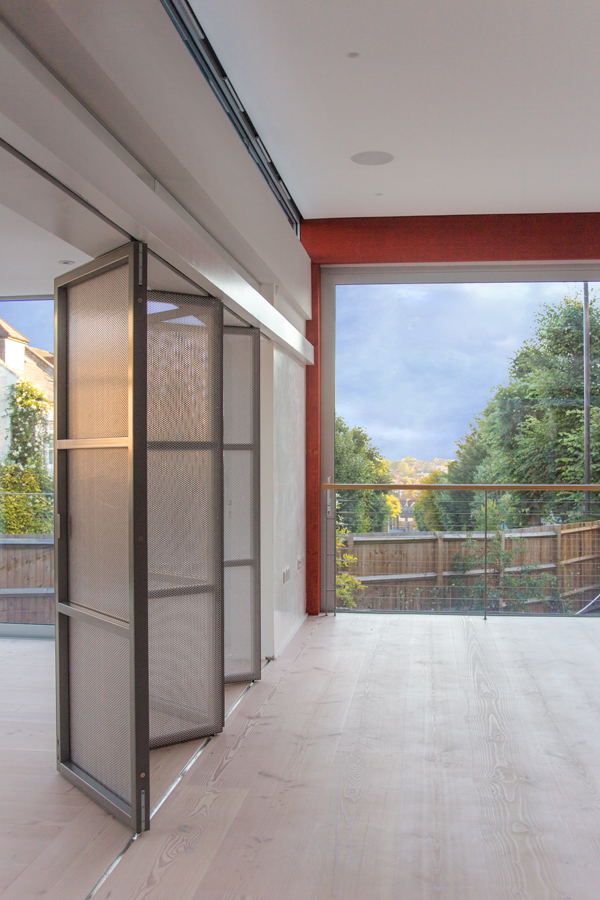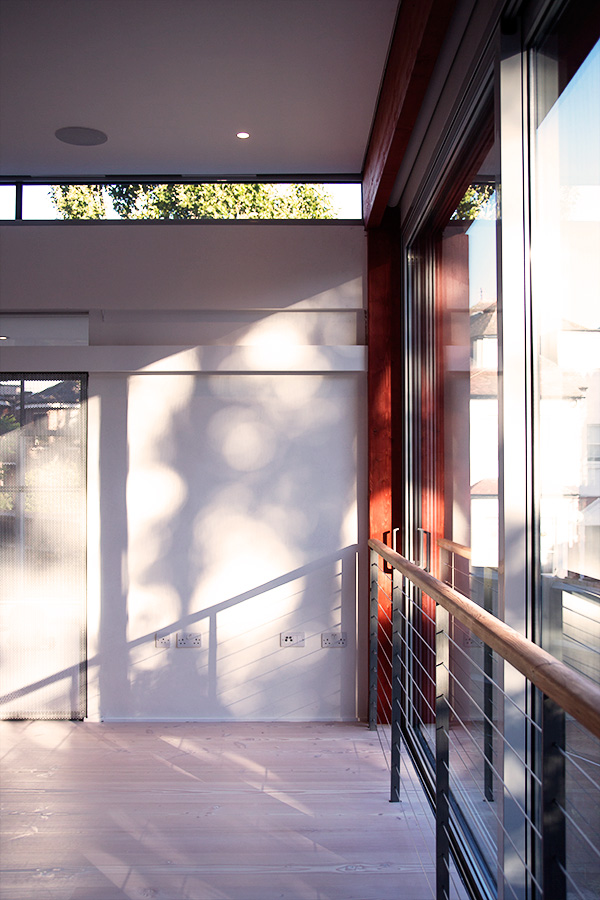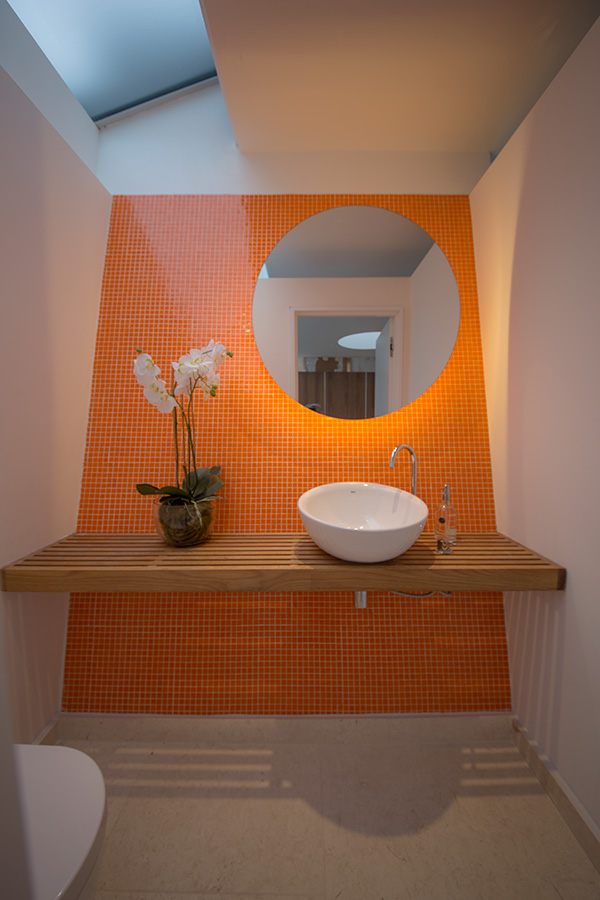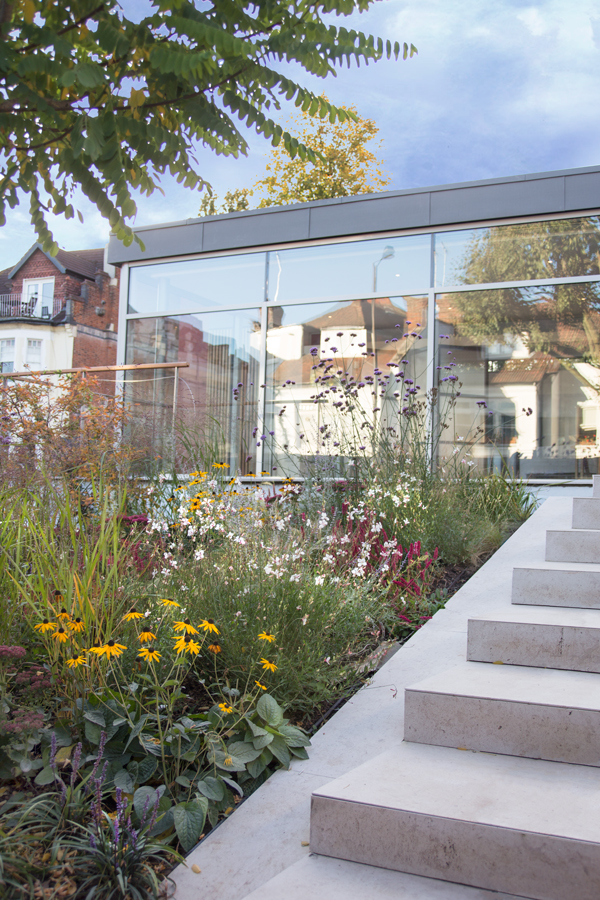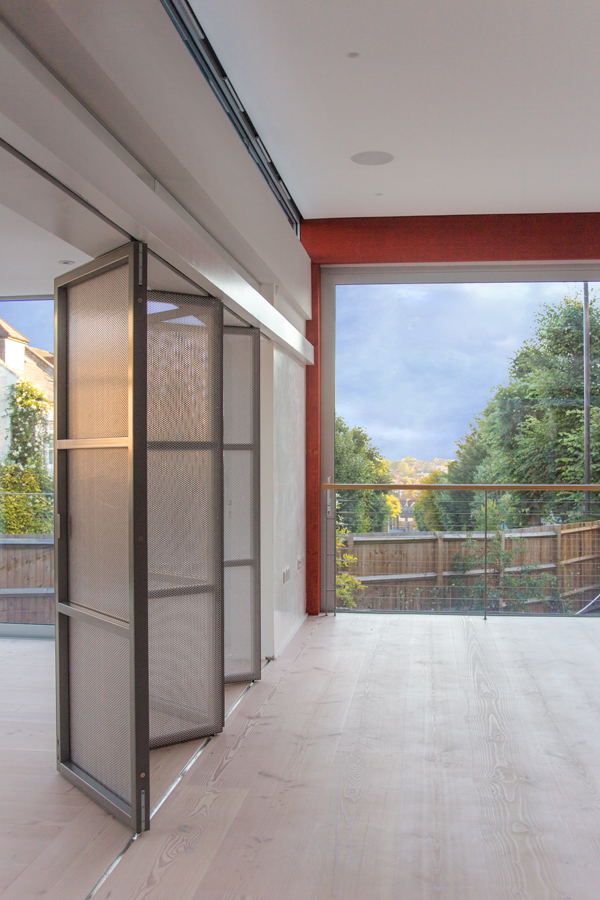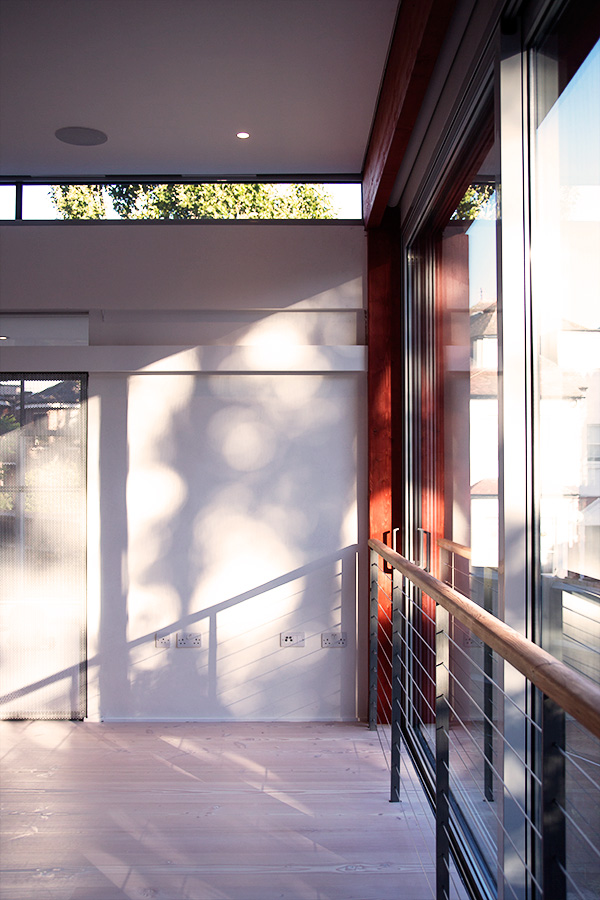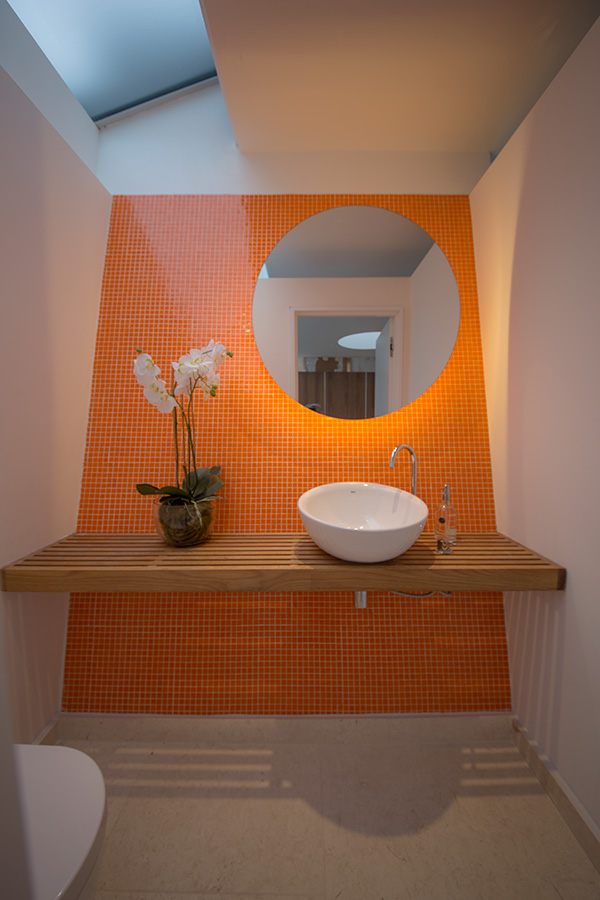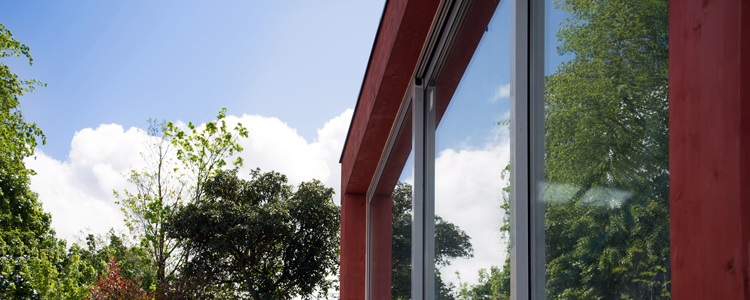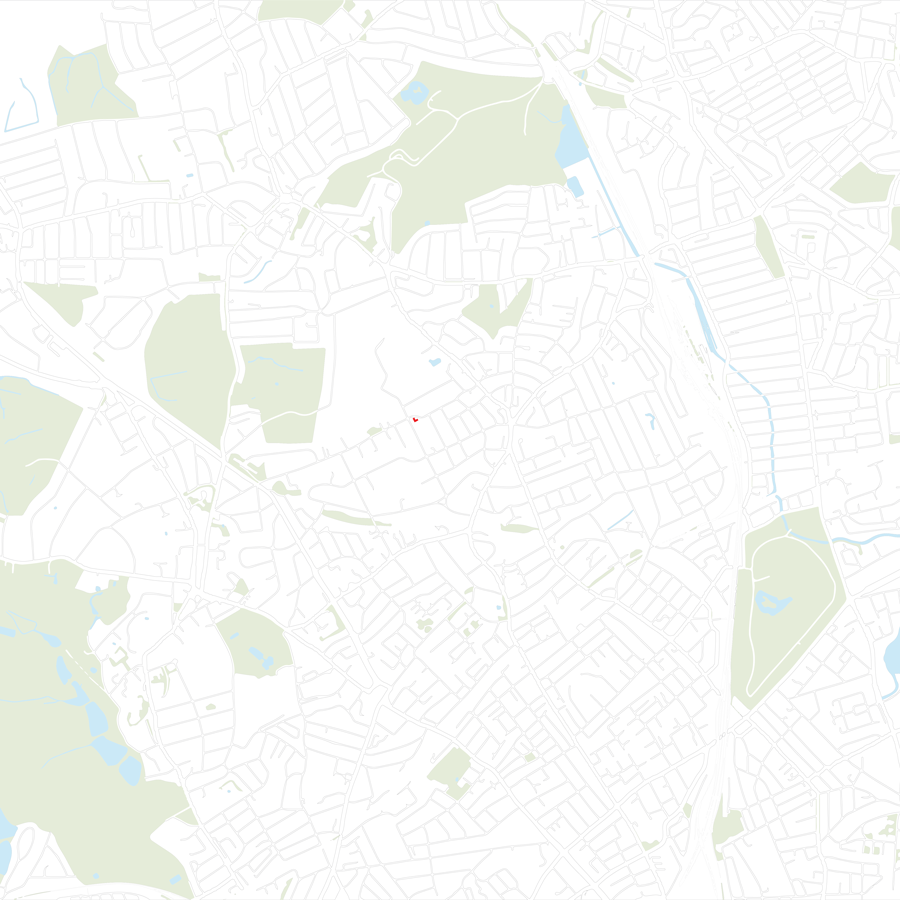 Framing Key Spaces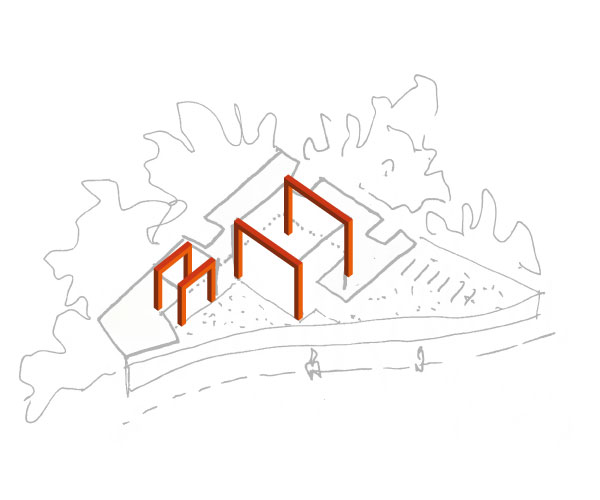 through the new glulam frames the natural timber structure bridges between inside and outside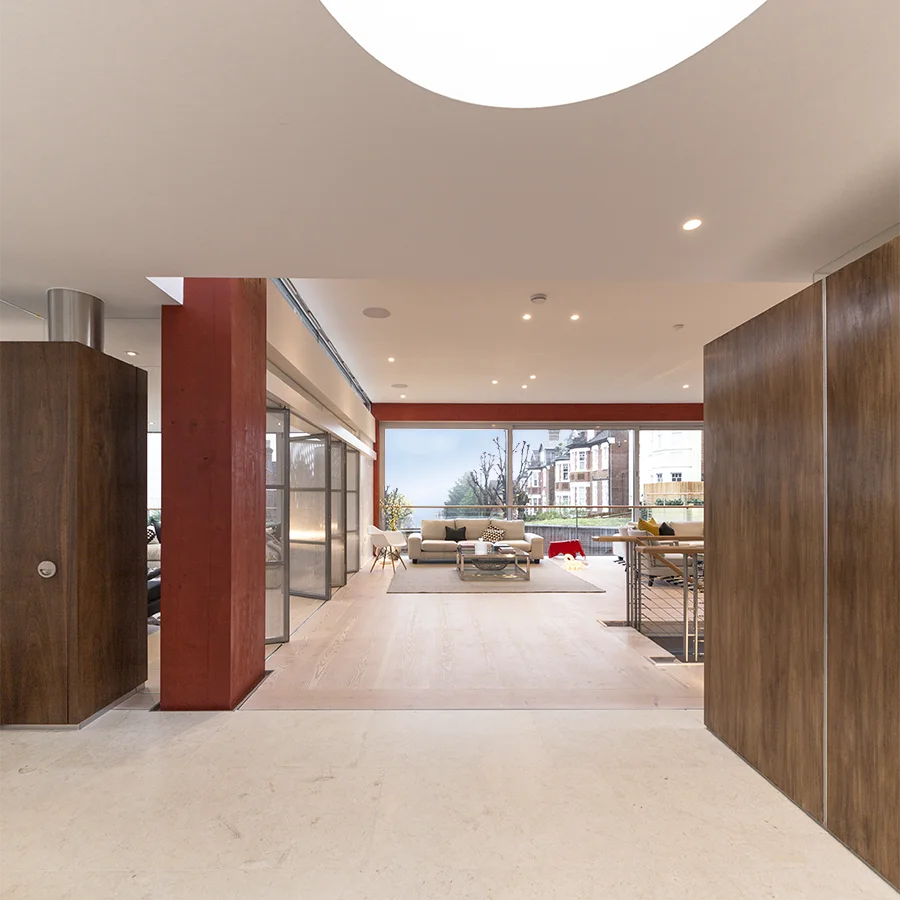 Maximising Daylight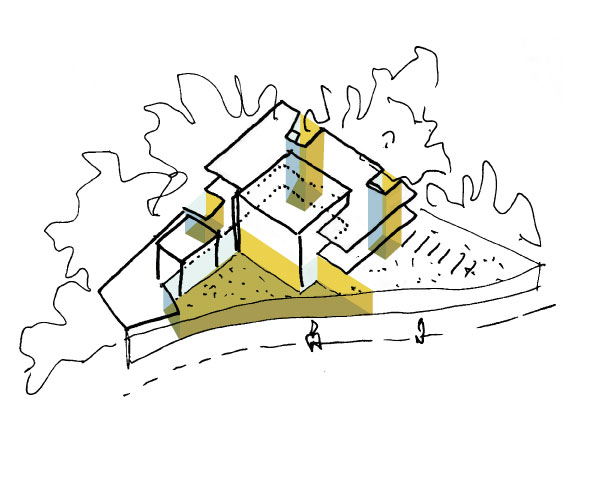 to bring light and air to the deepest parts of the site, three new lightwells have been created, as well as several rooflights

the cuts in the roof are designed to bring daylight into the building, despite the fact that the two southerly elevations are both buried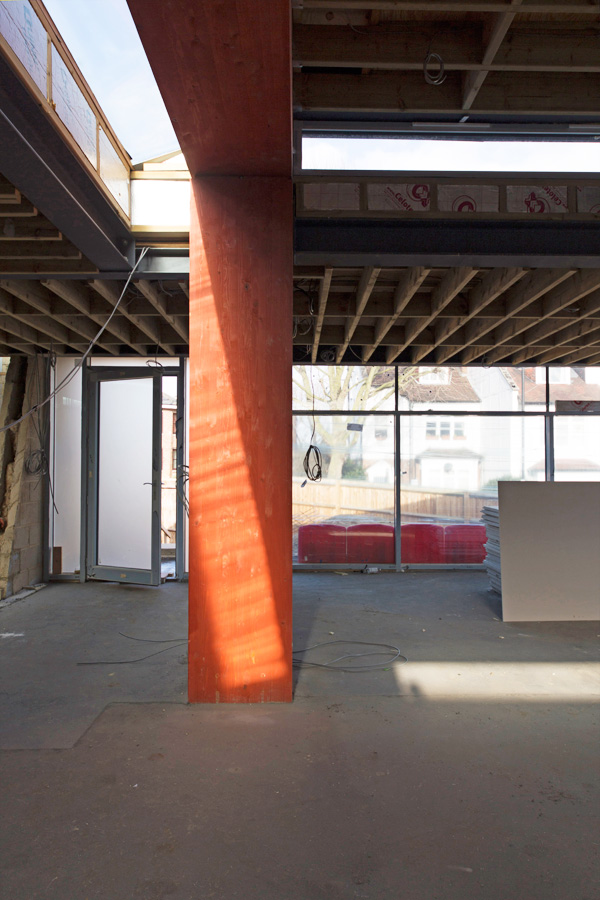 the solar study to the right shows the impact of the skylights and clerestorey windows overhead, on a mid-march day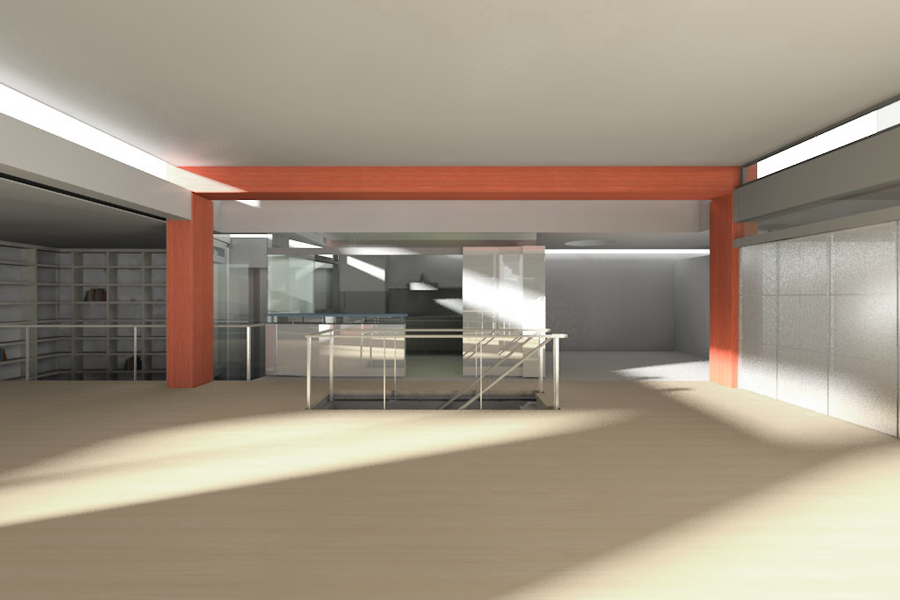 09:45am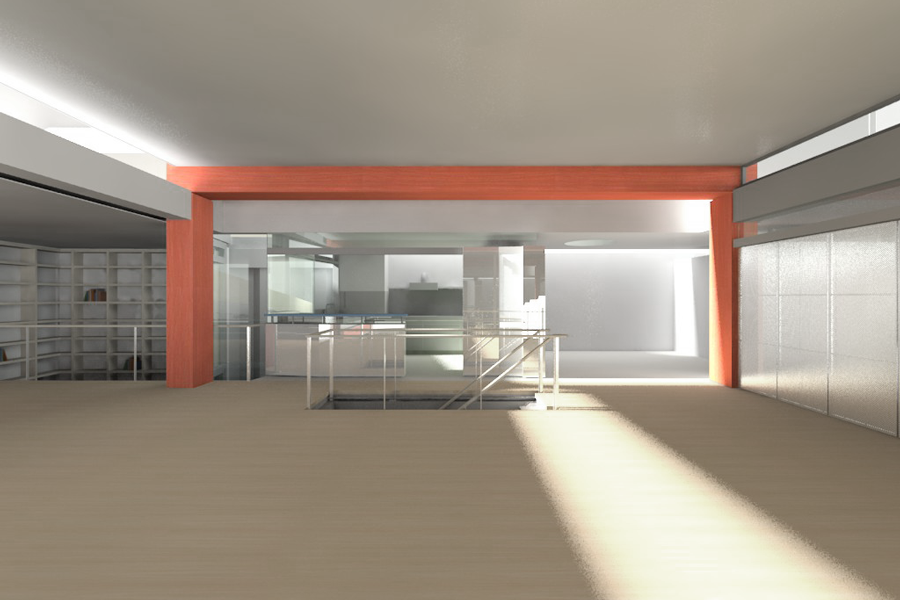 11:45am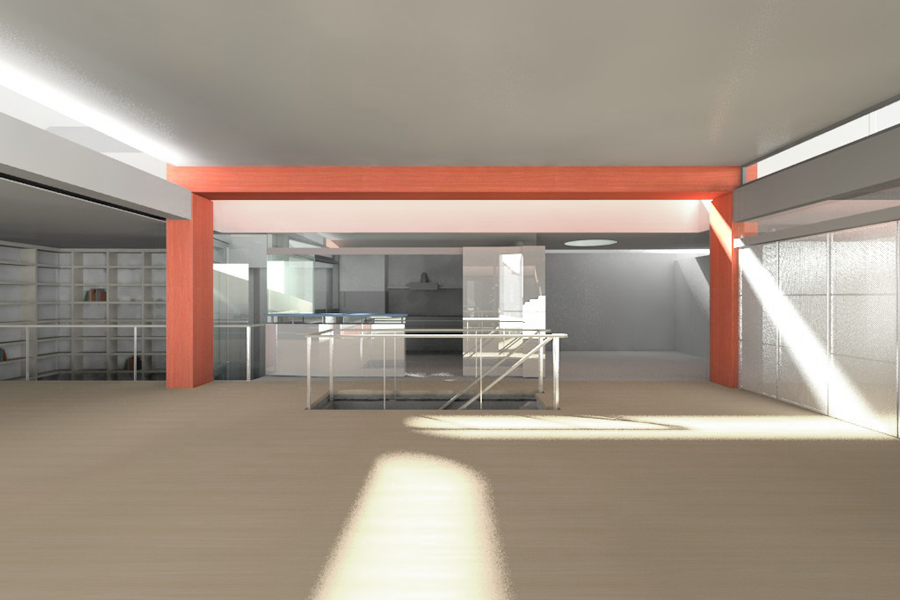 13:45am
Materials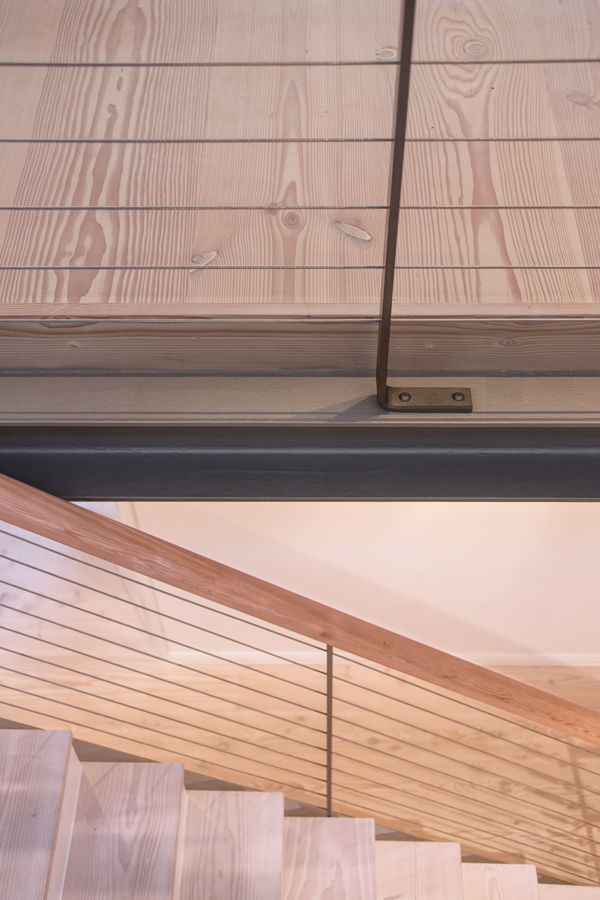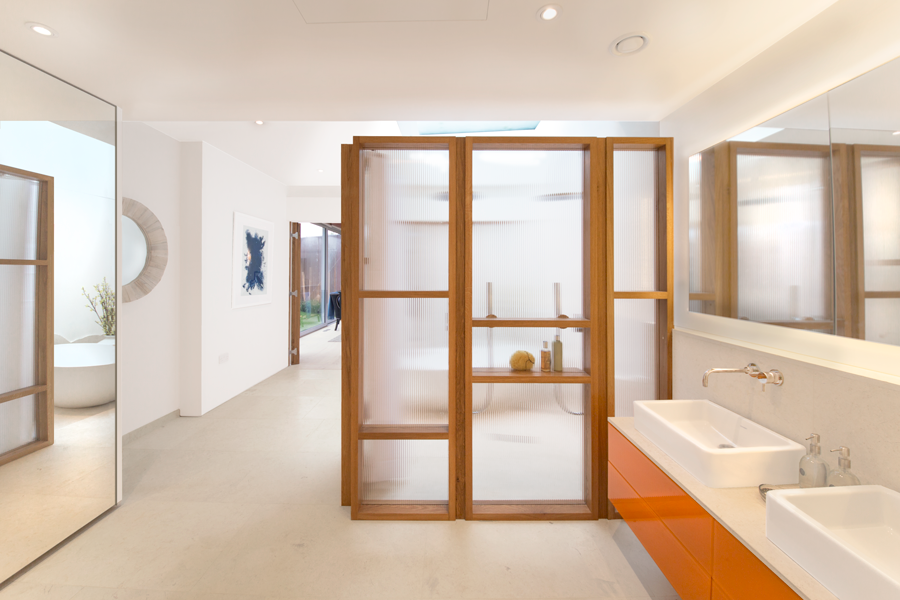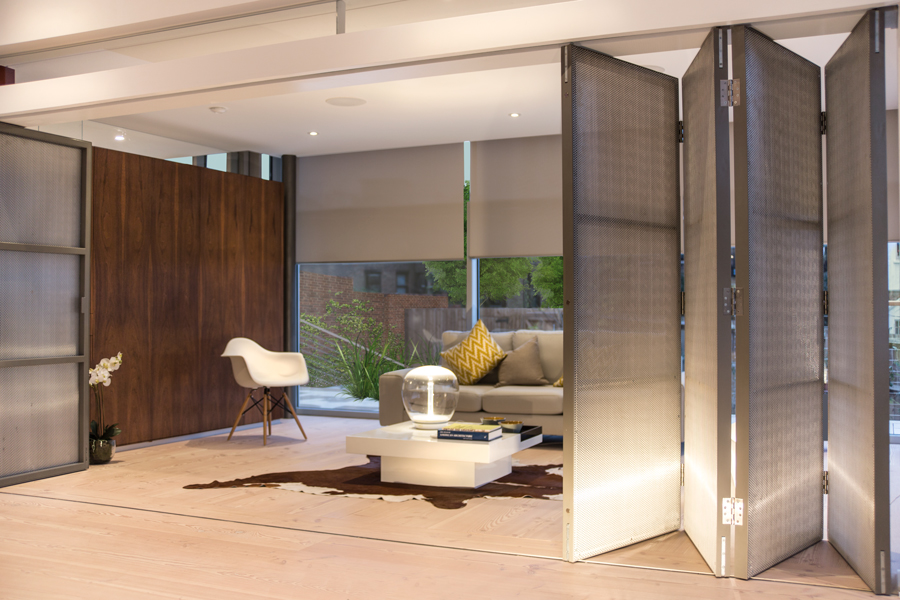 Drawings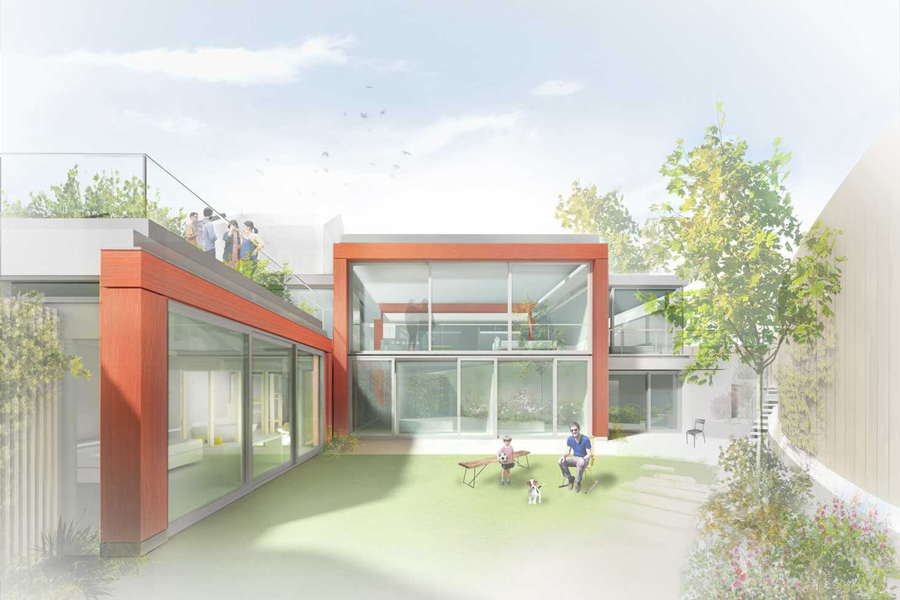 the six bedroom house is set into the hillside overlooking London
the site slopes considerably - there is a 6.5m height difference from one end to the other
the building steps down in section, following the contours of the site. the upper floor, which contains the public reception areas, is primarily open plan. the lower floor contains the private spaces and the annex
the focus of the house is the garden on different levels, and the long distance view to north east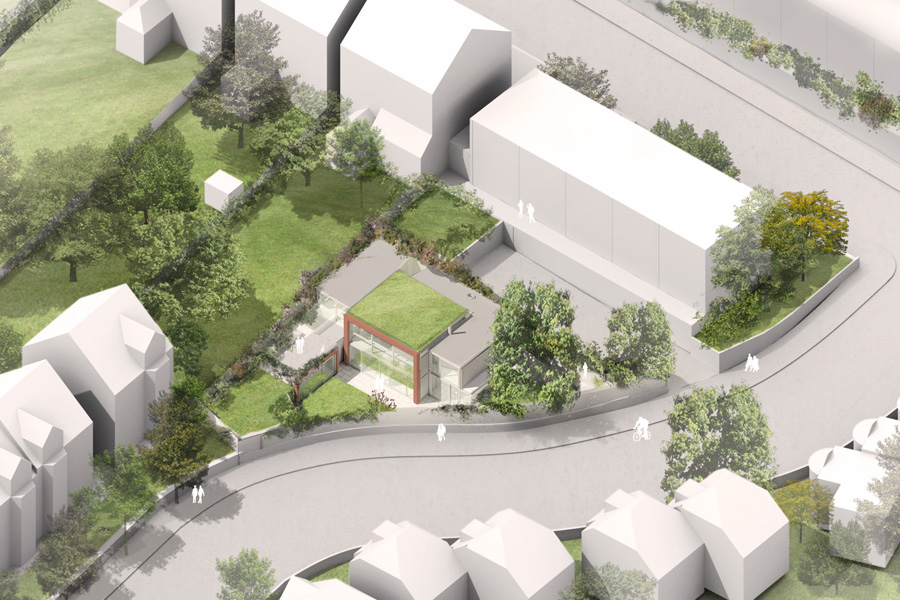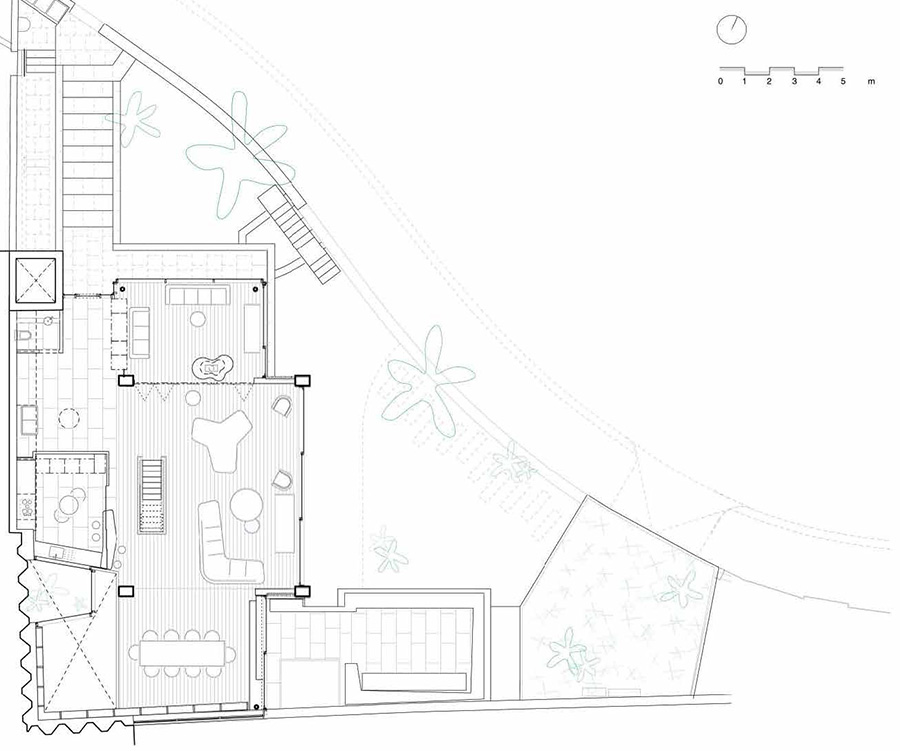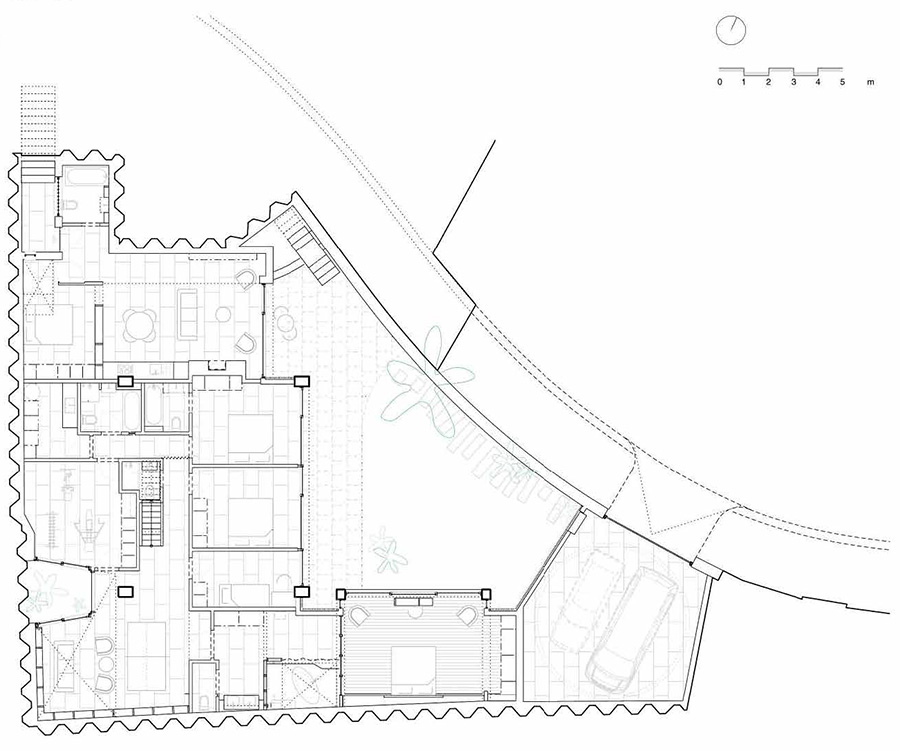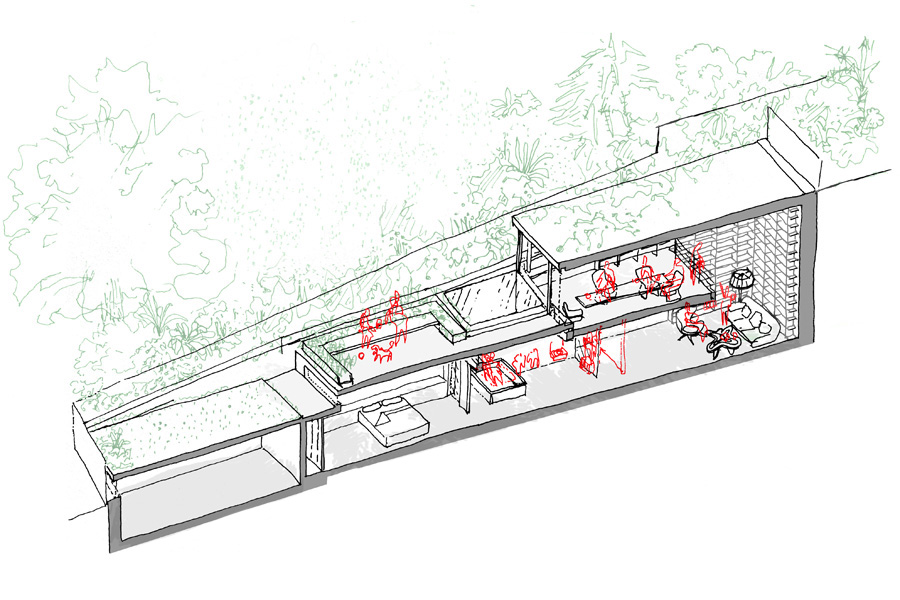 Sustainability
Two key elevations of the house are primarily earth sheltered, which keeps the structure low-profile whilst harnessing the heat of the soil, protecting the property and its inhabitants from temperature extremes.

A biodiverse green roof and air source heat pumps have also been installed.

Underfloor heating throughout creates a comfortable environment at the same time minimising heat consumption.

Green roofs provide both ecological and visual amenity, aiming to improve the natural habitat that was there previously.

Construction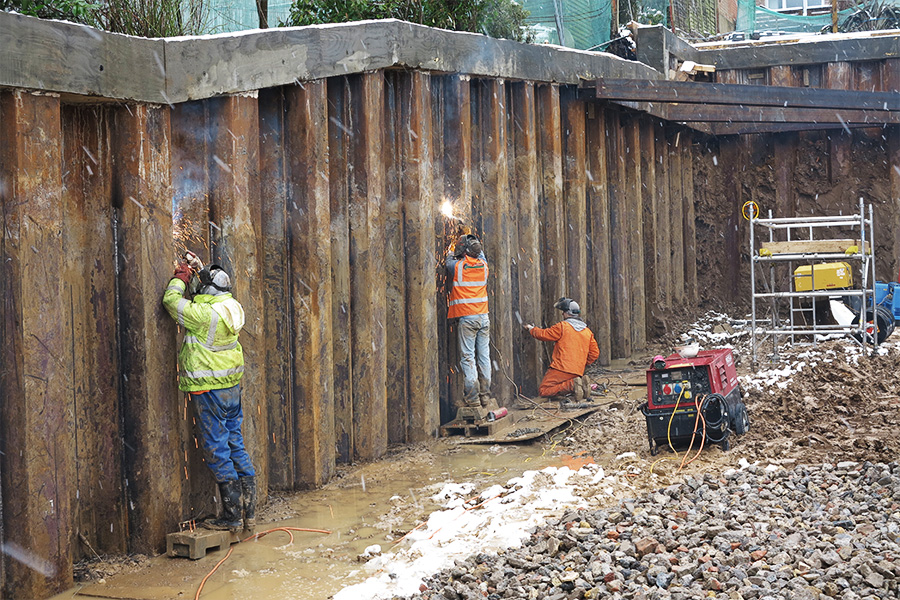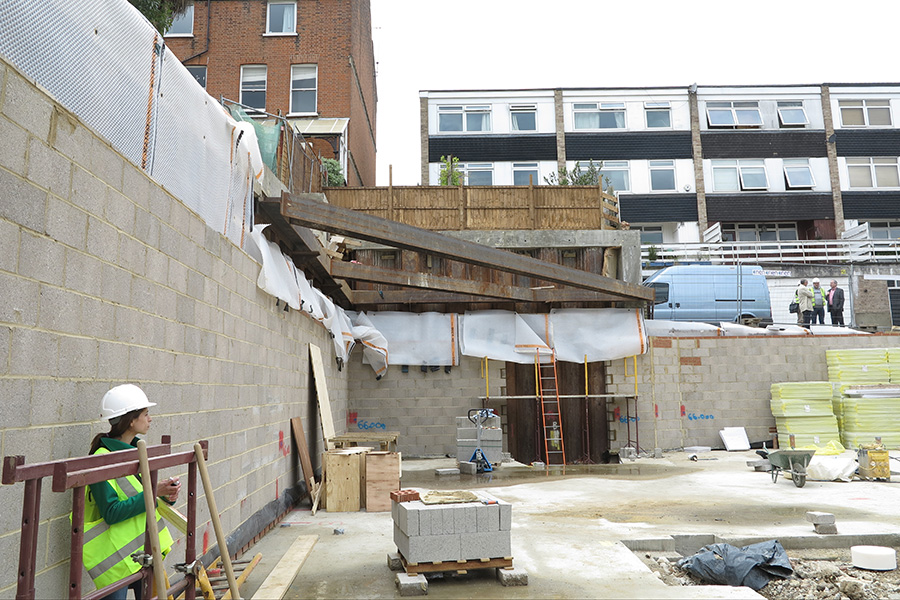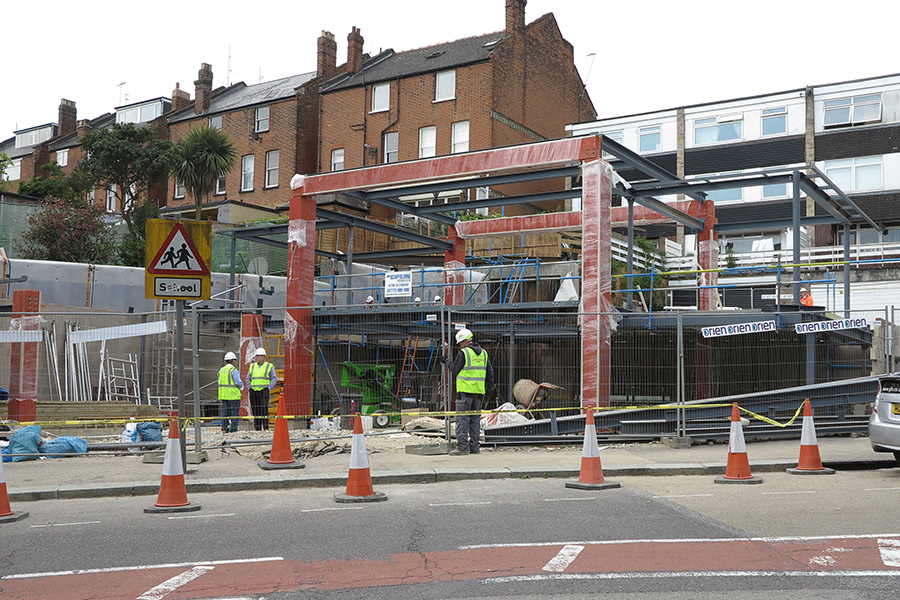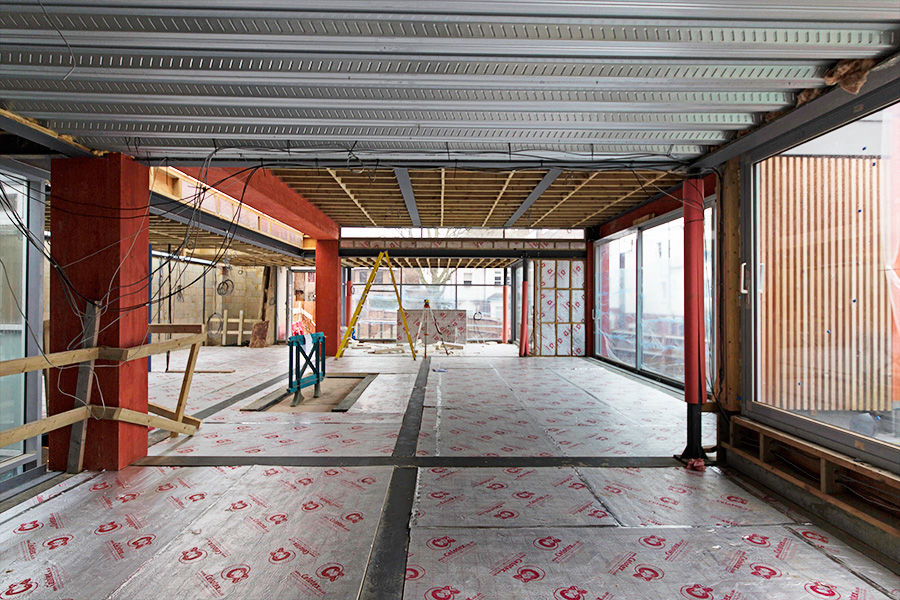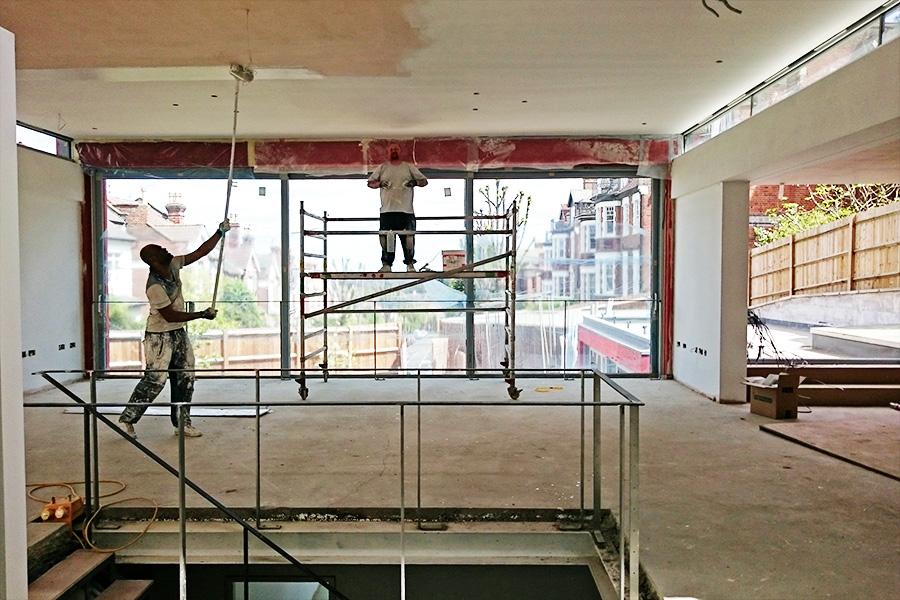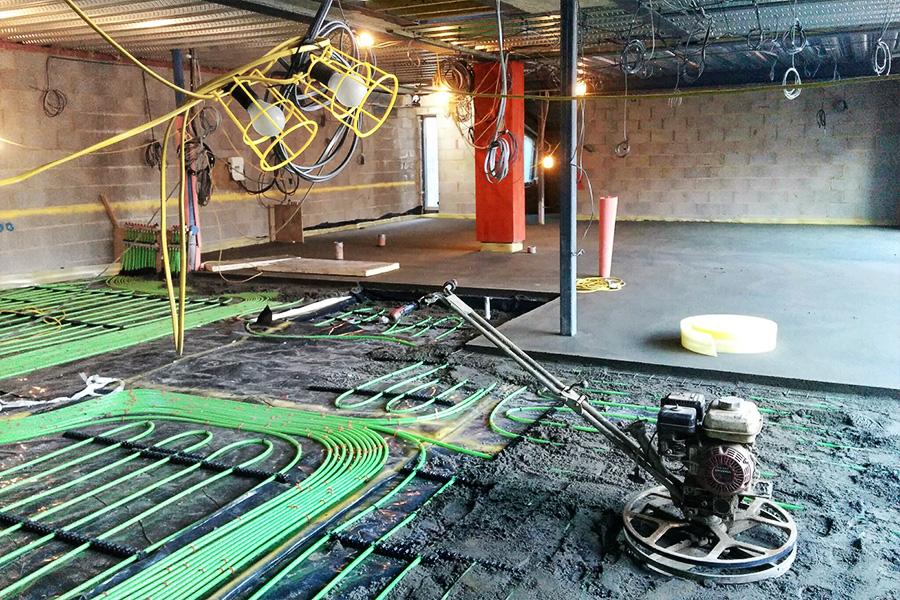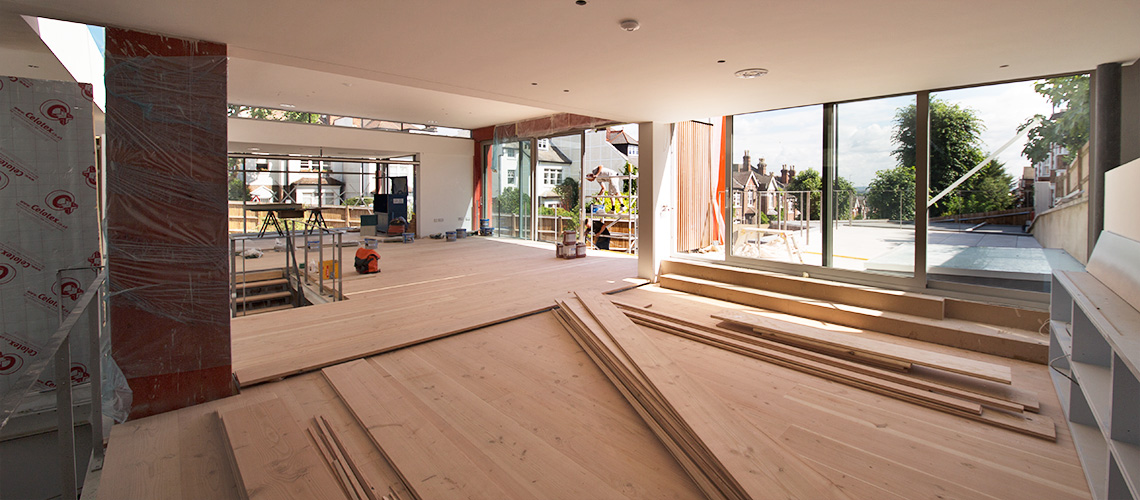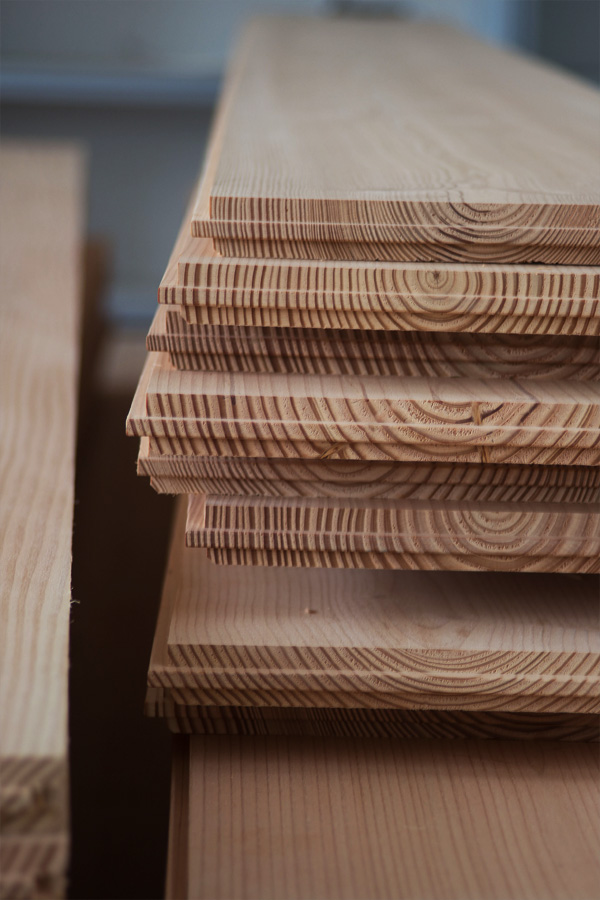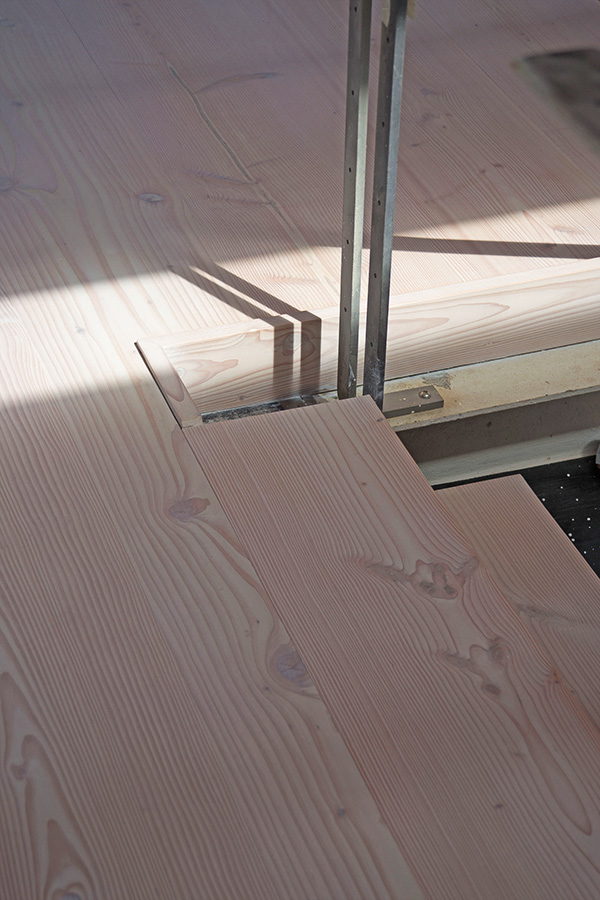 ---
Credits
Services Engineer - OCSC
Structural Engineer - Price & Myers, Elliott Wood
Landscape Architect - Dima Zogheib (concept), Jonathan Snow Design
Project Manager - MAC Consulting Ltd
General Contractor - Stark Group
Sub-Contractors - Berryrange Ltd (sheet piling), Constructional Timber (glulam), Openwood Ltd (rooflights), BDI Joinery, Focus Ceramics, Dinesen (floors), Optimum Contractors (steelwork), Stewart Landscapes